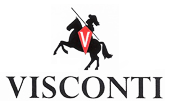 British power
Bags Visconti
The brand Visconti has a traditional style, and draws timeless and high quality leather bags or wallets. The Visconti's traditional look is undeniably an asset, a pure style for all lovers of contemporary bags. Bags made of durable leather, practical, and at a low price. All Visconti products belong to a high quality.
Read more ...
Attention to detail
Satchel for men, women bags or wallets, the same principles are always respected: impeccable finishes, finesse of the seams and resilience of the fastenings. Visconti is the British class.
No results for this search.

Go home